A gripping courtroom drama, perfect for fans of Fifty Fifty and My Sister's Keeper.
On an ordinary working day…
Leila Syed receives a call that cleaves her life in two. Her brother-in-law's voice is filled with panic. His son's nursery have called to ask where little Max is.
Your worst nightmare…
Leila was supposed to drop Max off that morning. But she forgot.
Racing to the carpark, she grasps the horror of what she has done. Max has been locked in her car for several hours on the hottest day of the year.
Is about to come true…
But she's too late.
What follows is an explosive, high-profile trial that will tear the family apart. But as the case progresses it becomes clear there's more to this incident than meets the eye…
A gripping, brave and tense courtroom drama, Next of Kin will keep you on the edge of your seat until the final, heart-stopping page.
HQ/HarperCollins, 2nd Sep 2021 | #NextOfKin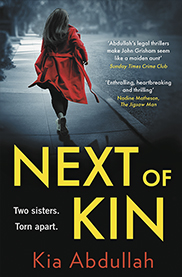 Amazon UK
Amazon US
Waterstones
Hive
Reviews
'Amid the requisite revelations of resentments and secrets, Abdullah draws out the truth with compassion, charting with notable understanding the ever-changing currents in human relations. Sophocles would approve'
– The Times
'Twists and turns aplenty … The author's greatest strength lies in her sensitive and relatable description of the relationship between sisters Leila and Max's mother Yasmin'
– i
'A tense, brilliant read'
– Bella magazine
'Abdullah has handed us another gripping, brave and tense courtroom drama. Next of Kin is precisely observed, tense and guaranteed to enthral until the final, heart-stopping page'
– Platinum magazine
'A stunning courtroom drama, taut, tantalising, deftly paced, with a denouement that will leave you reeling'
– Saga magazine
'An enthralling, heartbreaking and thrilling courtroom drama that had me shouting out loud and gripped until the last page'
– Nadine Matheson, author of The Jigsaw Man
'Brilliantly tense, this is another clever page turner from Kia Abdullah. A nightmare scenario evolves into an engrossing human drama that I couldn't put down. Just superb'
– Louise Hare, author of This Lovely City