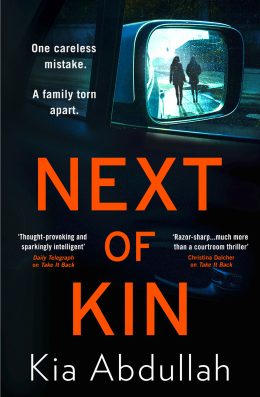 Next of Kin (UK pre-order)
£14.99
Description
What's included:
Signed hardback of Next of Kin (out 2nd Sep 2021)
Free delivery to the UK
Author profits donated to the Trussell Trust (UK food bank charity)
About the book:
On an ordinary working day…
Leila Syed receives a call that cleaves her life in two. Her brother-in-law's voice is filled with panic. His son's nursery have called to ask where little Max is.
Your worst nightmare…
Leila was supposed to drop Max off that morning. But she forgot.
Racing to the carpark, she grasps the horror of what she has done.
Is about to come true…
What follows is an explosive, high-profile trial that will tear the family apart. But as the case progresses it becomes clear there's more to this incident than meets the eye…
A gripping, brave and tense courtroom drama, Next of Kin will keep you on the edge of your seat until the final, heart-stopping page.
Non-UK residents can contact Goldsboro Books to reserve a signed copy.
HarperCollins, 2nd Sep 2021
---
Praise for Kia Abdullah's thrillers:
'Completely original … a shocking legal thriller that goes where few legal thrillers have gone before'
– The New York Times
'A superb legal thriller … crackles with tension'
– The Guardian
'A thought-provoking and sparklingly intelligent novel, with the welcome bonus of an unguessable ending'
– The Telegraph
'Just as impressive as the courtroom drama is Abdullah's portrayal of five deftly differentiated British-Asian families, and of the relationship between two disparate women who both become isolated pariahs'
– The Sunday Times
'Kia Abdullah's legal thrillers make John Grisham seem like a maiden aunt'
– The Sunday Times Crime Club
'A topical and gritty story of an explosive rape trial'
– The Observer
'Sex, race and social justice collide in this twisting courtroom thriller'
– USA Today
'Riveting, thought-provoking legal thriller… Abdullah is definitely a writer to watch'
– Publishers Weekly, starred review
'Abdullah has done an exemplary job of character development and is especially good at ratcheting up suspense as the trial proceeds'
– Booklist, starred review
'A fast-paced courtroom drama, Take It Back by Kia Abdullah asks tough questions about race, class, and gender while keeping you guessing until the (truly shocking) last page'
– Real Simple magazine
'A masterpiece [and] a triumph …. When you get to the final chapters, buckle up … She writes with such intelligence, research and compassion'
– Daily Record
'An excellent and intelligent novel'
– The Literary Review
'A searing courtroom drama'
– The Sunday Post
'Thought-provoking'
– i
'A deeply profound and thought-provoking read'
– Heat magazine
'Intense … meticulously researched … one of the best books to read [this] summer'
– NOW Magazine
'An unflinching, riveting novel'
– Sunday Express
'A thoughtful and provocative legal thriller'
– Amazon Book Review
'Kia's novel is an excellent addition to the court-based criminal dramas we've come to love. It's made even more shocking by its basing itself in one of the most challenging environments; rape and diversity. It's a great read and draws you in with fast pacing and real characters'
– Nazir Afzal OBE, Former Chief Crown Prosecutor, CPS
'Bold and brave, shocking and heartfelt, Kia Abdullah handles this story with such skill and empathy, yet builds the tension toward the kind of jaw dropping turn that had me gasping aloud. A very special book from a very special author'
– Chris Whitaker, bestselling author of Waterstones Thriller of the Month We Begin at the End
'Vividly examines some of the issues that shape (and deform) society … A gritty, extremely hard-hitting drama'
– Adele Parks, Platinum magazine
'With razor-sharp insight into the lives of her characters, Kia Abdullah gives readers much more than a courtroom thriller. A timely reminder that the tentacles of scandal are long – and they touch everyone'
– Christina Dalcher, Sunday Times bestselling author of VOX
'Intense, shocking and so real you can literally feel its heartbeat … the best book I've read this year'
– Lisa Hall, author of Between You and Me and The Party
Additional information
| | |
| --- | --- |
| Meta | HarperCollins, 2nd Sep 2021 |