A gripping courtroom drama, perfect for fans of Anatomy of a Scandal, He Said/She Said and Apple Tree Yard.
The victim: A sixteen-year-old girl with facial deformities who accuses four boys of something unthinkable.
The defendants: Four handsome teenage boys from hard-working immigrant families, all with corroborating stories.
Whose side will you take?
Former barrister Zara Kaleel, one of London's brightest young legal minds, takes up Jodie Wolfe's case; she believes her, even if those closest to Jodie do not. Together they enter the most explosive criminal trial of the year in which ugly divisions within British society are exposed. As everything around Zara begins to unravel, she grows even more determined to get justice for Jodie. But at what cost?
HQ/HarperCollins, 19th March 2020 | #TakeItBack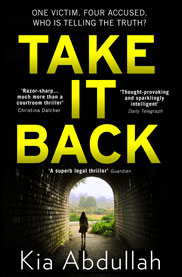 Reviews
'Completely original … a shocking legal thriller that goes where few legal thrillers have gone before'
– The New York Times
'A superb legal thriller … crackles with tension'
– The Guardian
'A thought-provoking and sparklingly intelligent novel, with the welcome bonus of an unguessable ending'
– The Telegraph
'Just as impressive as the courtroom drama is Abdullah's portrayal of five deftly differentiated British-Asian families, and of the relationship between two disparate women who both become isolated pariahs'
– The Sunday Times
'A topical and gritty story of an explosive rape trial'
– The Observer
'Sex, race and social justice collide in this twisting courtroom thriller'
– USA Today
'Riveting, thought-provoking legal thriller… Abdullah is definitely a writer to watch'
– Publishers Weekly, starred review
'Abdullah has done an exemplary job of character development and is especially good at ratcheting up suspense as the trial proceeds'
– Booklist, starred review
'A fast-paced courtroom drama, Take It Back by Kia Abdullah asks tough questions about race, class, and gender while keeping you guessing until the (truly shocking) last page'
– Real Simple magazine
'An unflinching, riveting novel'
– Sunday Express
'A thoughtful and provocative legal thriller'
– Amazon Book Review
'Intense … meticulously researched … one of the best books to read [this] summer'
– NOW Magazine
'With razor-sharp insight into the lives of her characters, Kia Abdullah gives readers much more than a courtroom thriller. A timely reminder that the tentacles of scandal are long – and they touch everyone'
– Christina Dalcher, Sunday Times bestselling author of VOX
'Intense, shocking and so real you can literally feel its heartbeat … the best book I've read this year'
– Lisa Hall, author of Between You and Me and The Party
'Kia's novel is an excellent addition to the court-based criminal dramas we've come to love. It's made even more shocking by its basing itself in one of the most challenging environments; rape and diversity. It's a great read and draws you in with fast pacing and real characters'
– Nazir Afzal OBE, Former Chief Crown Prosecutor, CPS
'Taut, gritty and compelling. This book deserves to be HUGE'
– Louise Jensen, million-copy bestselling author of The Sister
'I was blown away by Take It Back. From the explosive premise to the shockingly perfect ending, I loved every word'
– Roz Watkins, author of The Devil's Dice
Reader reviews
View a selection of tweets about Take It Back.