Are you ready to start this conversation?
Kamran Hadid feels invincible. He attends Hampton school, an elite all-boys boarding school in London, he comes from a wealthy family, and he has a place at Oxford next year. The world is at his feet.
But then a night of revelry leads to a drunken encounter and he must ask himself a horrific question.
With the help of assault counsellor, Zara Kaleel, Kamran reports the incident in the hopes that will be the end of it. But it's only the beginning…
Powerful, explosive and important, Truth Be Told is a contemporary courtroom drama that vividly captures today's society. You will not stop thinking about it for a long time to come.
HQ/HarperCollins, 4th March 2021 | #TruthBeTold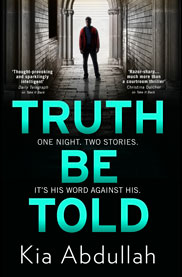 Reviews
'Vividly examines some of the issues that shape (and deform) society … A gritty, extremely hard-hitting drama'
– Adele Parks, Platinum magazine
'A masterpiece [and] a triumph …. When you get to the final chapters, buckle up … She writes with such intelligence, research and compassion'
– Daily Record
'A searing courtroom drama'
– The Sunday Post
'Thought-provoking'
– i
'A deeply profound and thought-provoking read'
– Heat magazine
'Gripping, sensitive, nuanced and heart-breaking, it will stay with you long after you read it'
– Roz Watkins, author of Cut to the Bone
'Brave, intelligent and as ever with Kia Abdullah utterly compelling. Brace yourselves'
– A A Dhand, author of Streets of Darkness
'Tense, harrowing and brilliantly written. A powerful story'
– Khurrum Rahman, Author of East of Hounslow
Reader reviews
View a selection of tweets about Truth Be Told.